Star Porta Potty Rentals is a leading porta potty rental company in the United States that offers high-quality and affordable portable toilets for events of all types and sizes. We have been in business for years, and our experience has taught us what it takes to provide our customers with the best possible service.
We know that when you are planning an event, the last thing you want to worry about is the porta potties. That is why we take care of everything for you, from delivery and setup to clean-up and removal. We even provide a wide range of options to choose from so that you can find the perfect portable toilets for your event.
A leading company in America offers high-quality portable toilets at affordable prices – Star Porta Potty Rentals.
We recently rented a Porta Potty from Star for our construction site, which was perfect! We urgently need portable restrooms for our labours because of the unavailability of washrooms in the construction area. We are glad that we came across Star Porta-potty service, which provided us with top-quality modern portable restrooms at an affordable price. Fully satisfied!
I recently used Star Porta potty's portable restroom for my event. It was clean and well-maintained. I would highly recommend them for all your restroom needs. The customer service was also excellent. They were prompt with delivery and very professional. All in all, a great experience!
We want to thank Star Porta-potty for providing top-quality portable restrooms for our event. Their thankless service and professional staff ensured that our guests had a pleasant experience. Really Impressed!
I wanted a clean and dependable porta-potty for my event, and Star Porta-potty delivered! Their service was quick, and I rented the portable restroom in excellent condition. Highly recommend them to anyone needing a quality porta-potty rental!
Thank you for the excellent service! Portable restrooms from Star Porta-Potty were clean, efficient and very affordable. Highly recommended for any outdoor event or construction site needs. Great job!
Why Choose
Star Porta Potty
Reliable services
We pride ourselves on providing reliable service to our customers. From prompt delivery and setup to regular maintenance and cleaning of our porta potties, we ensure that our units are in excellent condition and ready for use whenever you need them.
Telephone Support
Our dedicated customer support team is just a phone call away. Whether you have questions about our rental process, need assistance with selecting the right porta potty, or require help during your rental period, our knowledgeable staff is ready to assist you. We prioritize excellent customer service and aim to address your concerns promptly and professionally.
Affordable Prices
We understand the importance of affordability. Our porta potty rental prices are competitive, ensuring that you get high-quality restroom solutions without breaking the bank. We offer transparent pricing with no hidden fees, allowing you to budget effectively for your event or project.
Quick Service
We value your time, and that's why we strive to provide quick service. When you choose Star Porta Potty, you can expect efficient delivery and setup of the porta potties at your desired location. We understand that timing is crucial, and we make every effort to ensure that our service is prompt and reliable.
Easy on Call Booking
We make the porta potty rental process hassle-free with our easy on-call booking system. Simply give us a call, and our friendly staff will guide you through the rental process, answer any questions you may have, and help you choose the right porta potty options for your specific needs. We aim to make the entire experience smooth and convenient for you.
Flexible Rental Periods
We understand that different events and projects have varying duration requirements. That's why we offer flexible rental periods to accommodate your specific needs. Whether you need a porta potty for a few hours, a day, a week, or longer, we can customize the rental period to fit your schedule and budget.
We serve for
all the occasions and events
Porta Potty Rentals for Construction sites in the United States
Are you working on a construction site and need porta potties for your workers? Star Porta Potty Rentals can help. Our standard porta potties are perfect for construction sites, they are tough and durable enough to withstand the rigors of a construction site.
Porta Potty Rentals for Parties in the United States
A party is fun, but it can be a lot of work. Let us take care of the porta potties so that you can focus on more important things. We have a wide range of porta potties to choose from, and we can even customize them to match your party theme. We even provide ADA-compliant porta-potties in case you are expecting guests with disabilities.
Porta Potty Rentals for Concerts in the United States
One of the best things about living in the United States is that there are always concerts going on. But if you are planning to host a concert, you need to make sure that your guests have access to clean and safe porta potties. Star Porta Potty Rentals can help you with that. Our porta potties are clean and spacious and come with a wide range of features that will make your concert guests happy.
Porta Potty Rentals for Sports Events in the United States
Sports make us feel alive. It connects us with our friends and families, and it gives us a sense of community. If you are planning a sports event, you need to make sure that your guests have access to clean and safe porta potties. Having a place to go to the bathroom is important for any event, but it is especially important for a sports event where people will be sweating and drinking a lot of water. With our porta potties, you can be sure that your guests will have a clean, comfortable place to take a break from the action.
Porta Potty Rentals for Weddings in the United States
A wedding is once in a lifetime event and we know that you want everything to be perfect on your big day. That is why we offer high-quality and affordable porta potties for weddings. Our luxury porta potties are the perfect fit for your wedding, you can rest assured that your guests will have a clean and comfortable place to use the restroom. They will also be impressed by the fact that you thought of everything!
Porta Potty Rentals for Festivals in the United States
Festivals are a time to celebrate, and we want to make sure that you have everything you need to make your festival a success. That is why we offer porta potties for festivals. We know that when you are planning a festival, you have a lot of things to think about; porta potties are one thing that you don't have to worry about. We will deliver and set up the porta potties and even pick them up after the event. You just need to enjoy the festival!
Types of Porta Potty Rentals
Standard porta-potties provide a convenient solution for temporary sanitary requirements. These portable restrooms are intended to be efficient and convenient.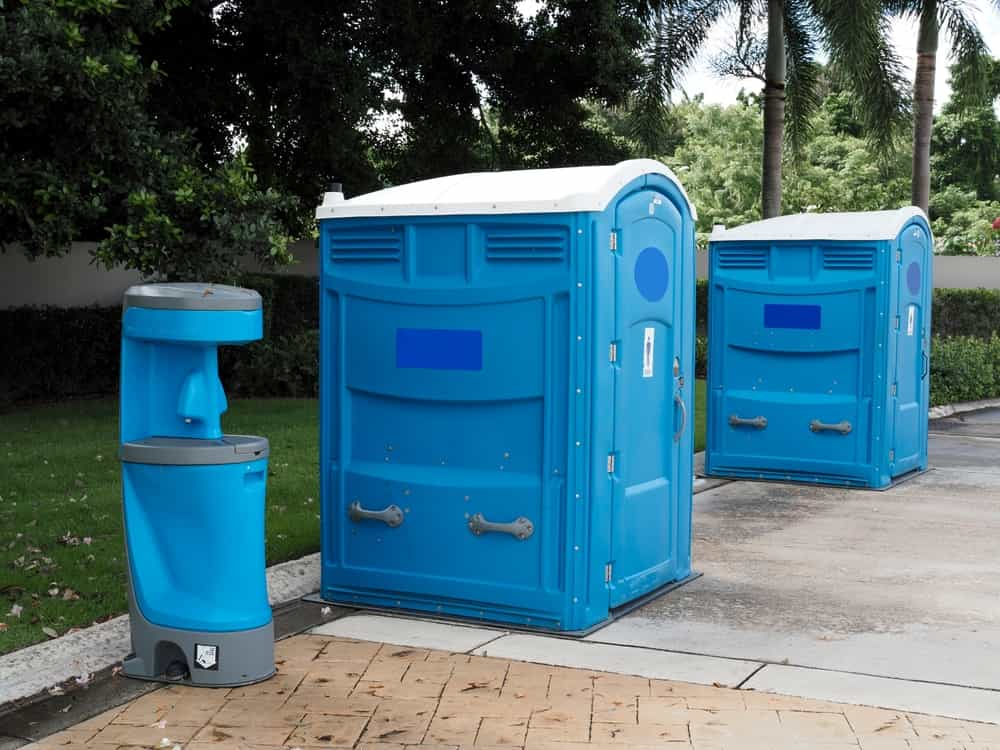 Our handicap portable toilets are built to satisfy the specific needs of impaired customers, with wide interiors, durable railings, and wheelchair accessible. Look through our inventory right now.
Our deluxe portable toilets provide the finest in comfort and convenience. Our units are designed to deliver a premium lavatory experience on the go, with exquisite designs, large interiors, and the best facilities
Our deluxe portable toilets provide the finest in comfort and convenience. Our units are designed to deliver a premium lavatory experience on the go, with exquisite designs, large interiors, and the best facilities
ADA-Compliant Units: Providing Access and Inclusion for All. Explore a wide choice of ADA-compliant units built to meet the Americans with Disabilities Act's accessibility criteria. 
Portable Toilets with Showers Experience ultimate convenience and hygiene with our portable toilets equipped with showers. Ideal for outdoor events, camping trips, and construction sites. 
Convenient and Clean Sanitation for Any Event. Our portable loo trailers provide clean and comfortable facilities on wheels, making them ideal for weddings, construction sites, outdoor festivals
North Carolina
North Dakota
Ohio
Oklahoma
Oregon
Pennsylvania
Rhode Island
South Carolina
South Dakota
Tennessee
Frequently Asked Questions