Portable Rental Toilets in Alabama
If you are planning an event in Alabama and need quality portable rental toilets, then you have come to the right place. We offer a wide range of options for all types of events, ranging from large festivals to small family gatherings. 
Our portable rental toilet provides clean, sanitary options to keep your guests comfortable and happy throughout their visit. At Star Porta Potty, Our units are designed for convenience and easy setup so you can focus on the more important aspects of your event.
All our portable rental toilets are made using high-grade materials and come with a range of amenities such as hand sanitiser, toilet paper, and more. We also offer handicap-accessible units for those who need additional accommodations. 
Additionally, all of our units are serviced regularly to ensure they remain in top condition at all times. Our friendly staff is always available to help if you have any questions. Contact us today for more information on our portable rental toilets in Alabama! We look forward to helping you make your special day more memorable!
Types of Porta Potty Rentals
Standard porta-potties provide a convenient solution for temporary sanitary requirements. These portable restrooms are intended to be efficient and convenient.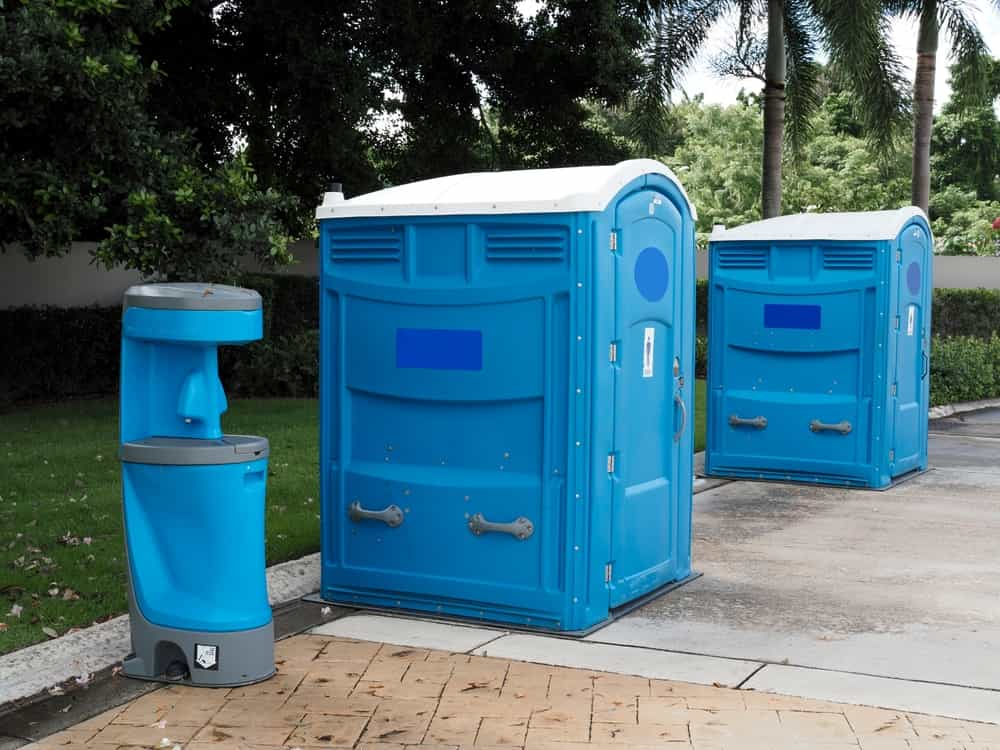 Our handicap portable toilets are built to satisfy the specific needs of impaired customers, with wide interiors, durable railings, and wheelchair accessible. Look through our inventory right now.
Our deluxe portable toilets provide the finest in comfort and convenience. Our units are designed to deliver a premium lavatory experience on the go, with exquisite designs, large interiors, and the best facilities
Our deluxe portable toilets provide the finest in comfort and convenience. Our units are designed to deliver a premium lavatory experience on the go, with exquisite designs, large interiors, and the best facilities
ADA-Compliant Units: Providing Access and Inclusion for All. Explore a wide choice of ADA-compliant units built to meet the Americans with Disabilities Act's accessibility criteria. 
Portable Toilets with Showers Experience ultimate convenience and hygiene with our portable toilets equipped with showers. Ideal for outdoor events, camping trips, and construction sites. 
Convenient and Clean Sanitation for Any Event. Our portable loo trailers provide clean and comfortable facilities on wheels, making them ideal for weddings, construction sites, outdoor festivals
Features of Alabama Luxury Portable Restroom:
ADA handicap accessibility with a wide entry doorway

Non-slip flooring to ensure safety

Luxury interior featuring mirrored walls, air conditioning, and marble countertops

The interior features LED lighting for a more pleasant atmosphere

Equipment includes hands-free flush toilets, running water, and stainless steel sinks

Ample storage space for supplies

Durable fibreglass construction with a high-gloss finish, ensuring years of use

Exterior features include skirting, exterior lighting, and an optional awning

Easy to manoeuvre around due to its lightweight design and four-wheeled base

Optional features include sinks with hot and cold water, televisions, sound systems, and security cameras.

Comes with a one-year warranty for peace of mind.
Types of Portable Bathroom Rentals in Alabama:
Standard Portable Restroom:

This unit is designed for temporary use and features a simple design with basic amenities.

Deluxe Portable Restroom:

This luxury unit features more upscale amenities such as air conditioning, running water, LED lighting, and a luxurious interior design.

VIP Portable Restroom:

Ideal for special events such as weddings and galas, this unit features all of the amenities found in the Deluxe model and additional features such as an awning and optional hot water.

Restroom Trailer:

This larger unit is perfect for longer-term events such as festivals and concerts. It features increased storage space and can be customised with a variety of options, including televisions, sound systems, and security cameras.

Portable Toilet Rentals:

These are the most basic type of portable restroom, providing a simple solution for events such as construction sites and outdoor gatherings.

Luxury Toilet Rentals:

This is the ultimate luxury porta potty rental, offering all the same amenities as the Deluxe model but with an even more upscale finish.

Portable Shower Rentals:

These units are great for festivals and outdoor events where bathing facilities are needed. They come with a shower curtain, running water, and all the other amenities you would expect from a modern bathroom.

Flushable Porta Potties:

These are designed for convenience and easy cleaning. They come with a flushing system that helps to keep your portable restroom clean and fresh.

ADA/Handicap Porta Potties:

These units are designed to meet all ADA requirements, providing easy access and convenience for those with mobility issues.
Restrooms Trailers / Portable Toilets for all events & Festivals in Alabama:
Whether you're planning a festival, corporate event, wedding, or any other type of gathering in Alabama, there is no need to worry about restroom facilities. Portable restrooms are the perfect solution for ensuring your guests have access to top-notch restroom amenities without having to sacrifice space or compromise on comfort.
At Star Porta Potty Rentals, we offer a variety of restroom trailers and portable toilets for rent in Alabama to fit all your needs. From basic porta-potty rentals to luxury restrooms and shower trailers, you can rest assured that we have the perfect option for any event or occasion. 
Our team of experienced professionals will provide prompt delivery, setup, and removal of your rental units to ensure your event runs smoothly, and your guests have access to the amenities they need. We are committed to providing you with high-quality service, so don't hesitate to give us a call today for all your portable restroom needs in Alabama!
Bathroom Trailer Rentals for Weddings in Alabama:
Star Porta Potty is the perfect solution for any outdoor event in Alabama. We offer portable toilets and trailers that come with a wide variety of comforts to give your guests an enjoyable experience. 
With daily, weekly, or monthly rentals available, call us and tell us when you need them, and we will deliver them quickly. Put your trust in our hands, and you'll see how we help make your event a success.
Alabama Sanitation Restrooms Rentals for Concerts:
Are you need portable restroom services for your upcoming concert or festival in Alabama? Look no further than Star Porta Potty Rentals! We provide a variety of high-quality portable toilet units and trailers that can accommodate events of all sizes. Our experienced staff is here to help you choose the best sanitation equipment for your event, including luxury restroom trailers, ADA-compliant porta potties, and handwashing stations. Our team will also help manage onsite delivery, setup, and removal services. We strive to provide exceptional customer service and a reliable experience each time you rent with us.
Porta Potty for Construction in Alabama:
When you're in need of porta-potty rental services for your construction site in Alabama, Star Porta Potty Rentals is here to help. We offer a variety of portable toilets and trailers to meet all of your needs, no matter the size or scope of the project.
Our wide selection of porta potties comes in a range of sizes and styles to fit your needs and budget. We also provide all the standard features you need, including durable walls, heavy-duty floors, unobstructed access, and easy cleaning.
Portable toilet trailers for corporate events:
Star Porta Potty Rentals is proud to offer a wide selection of portable restroom trailers and luxury units throughout Alabama. We understand that corporate events require the highest level of convenience, comfort, and sanitation for your guests. That's why we provide top-of-the-line restroom rentals for all types of corporate events—from large outdoor concerts to intimate corporate retreats
Why Choose Star Porta Potty in Alabama?
Star Porta Potty is a well-reputed firm providing quality, portable sanitation solutions throughout Alabama. We offer a wide selection of bathroom trailers and porta potties to fit all types of events and budgets.
At Star Porta Potty Rentals, we are dedicated to providing quality sanitation and restroom services throughout Alabama. Our experienced team is here to help you choose the perfect portable toilets and trailers for your unique event or construction site. We take pride in offering a wide selection of standard units at competitive rental prices. 
Our friendly staff will also provide reliable delivery and setup services, so you can rest assured that your portable restroom needs are taken care of.
Thank you for choosing Star Porta Potty for all your portable rental toilet needs in Alabama! Your satisfaction is our number one priority. With our quality products, top-notch service, and competitive prices, we are sure you will be satisfied with your experience. Contact us today to learn more about our services!
Cities We Serve in Alabama
Alabama has a rich history when it comes to portable rental toilets. The state was one of the first in the United States to recognise the need for and potential uses of these mobile restrooms. From outside events to construction sites, portable toilets have enabled many businesses, municipalities and individuals to use modern sanitation solutions far from traditional restroom infrastructure. Portable rental toilets offer convenience, privacy and portability that can be critical when other washroom options are not accessible or simply unavailable. Over the years, several Alabama companies have successfully marketed and provided these excellent services, increasing their commercial presence statewide. As a result, modern sanitation solutions continue to drive economic growth throughout Alabama.
Frequently Asked Questions