Porta Potty Rental Tennessee
Tennessee Portable Restrooms at your services
When it comes to organizing outdoor events and gatherings, Star porta potty rental in Tennessee has your back. Whether you're hosting a significant corporate event or a small family get-together, having access to clean and reliable restroom facilities is essential.
Our team is dedicated to providing top-tier restroom services for events of all sizes. With a wide selection of portable restroom trailers, we aim to make every event experience comfortable and convenient for everyone in attendance.
Our product portfolio includes basic standard facilities, luxury portable rooms, and deluxe units with flushing capabilities. All units are designed for comfort and convenience while maintaining affordability and durability. 
We know how vital it is to have reliable restrooms during outdoor gatherings. That's why we focus on providing top-notch customer service while ensuring the bathrooms are well-maintained and hygienic.
Types of Porta Potty Rentals
Standard porta-potties provide a convenient solution for temporary sanitary requirements. These portable restrooms are intended to be efficient and convenient.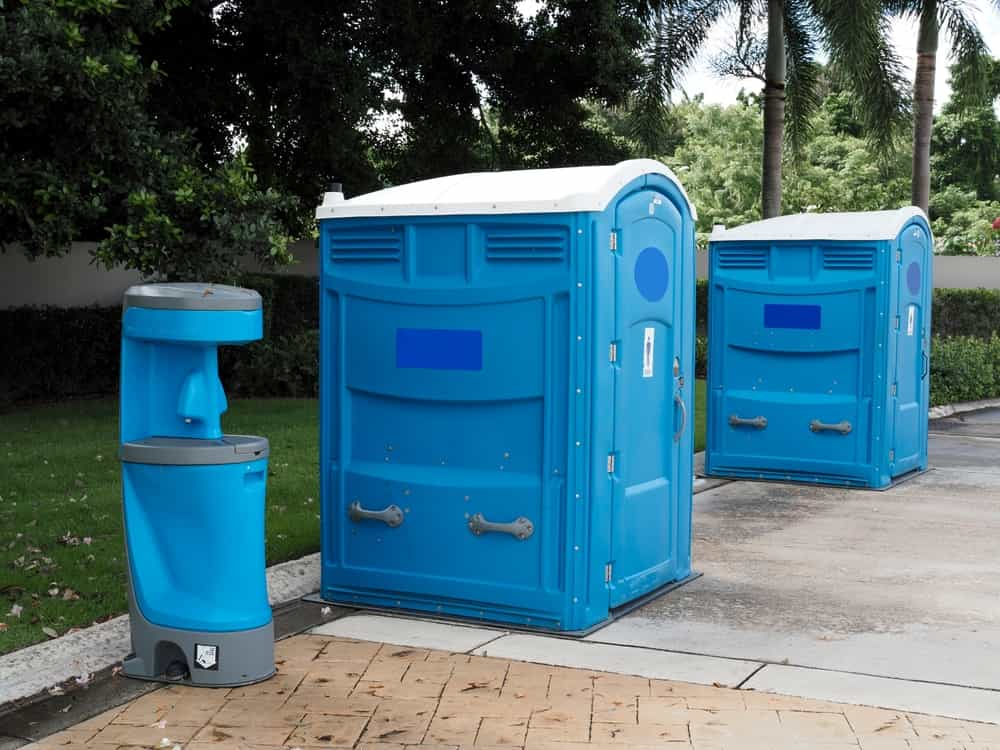 Our handicap portable toilets are built to satisfy the specific needs of impaired customers, with wide interiors, durable railings, and wheelchair accessible. Look through our inventory right now.
Our deluxe portable toilets provide the finest in comfort and convenience. Our units are designed to deliver a premium lavatory experience on the go, with exquisite designs, large interiors, and the best facilities
Our deluxe portable toilets provide the finest in comfort and convenience. Our units are designed to deliver a premium lavatory experience on the go, with exquisite designs, large interiors, and the best facilities
ADA-Compliant Units: Providing Access and Inclusion for All. Explore a wide choice of ADA-compliant units built to meet the Americans with Disabilities Act's accessibility criteria. 
Portable Toilets with Showers Experience ultimate convenience and hygiene with our portable toilets equipped with showers. Ideal for outdoor events, camping trips, and construction sites. 
Convenient and Clean Sanitation for Any Event. Our portable loo trailers provide clean and comfortable facilities on wheels, making them ideal for weddings, construction sites, outdoor festivals
Outdoor Bathroom Rentals - How they Work?
An outdoor bathroom rental is a way to provide sanitation and comfort to guests at your event without having to install permanent restroom facilities. These rentals are delivered on-site, set up, and completely equipped with everything you need for your event. 
The rental provider will deliver the bathroom to your event site and set it up for you. The rental comes with a full staff of attendants who clean, restock, and remove the unit after use. The provider will also transport waste to an off-site facility for proper disposal. 
This frees you to focus on your event without worrying about finding a bathroom or restocking supplies. The provider will pick up the unit after you are done, leaving your site free of clutter.
Star Temporary restrooms Standard Features
Temporary restrooms are becoming increasingly popular, and they have some features that make them useful for various purposes. Star Temporary Restrooms is a leading supplier of these units, offering high-quality products with standard features to meet any requirement.
Ease of use:

Guests appreciate the convenience of portable toilets. They are not required to leave the event to use the restroom.
Sanitary conditions:

Portable toilets provide better sanitary conditions, which helps in preventing diseases.
Reasonably priced:

These trailers are easily affordable.
Simple to Use:

Portable toilets are simple to use. They do not necessitate any special abilities or training.
Environmentally Conscious:

Portable toilets are not harmful to the environment. They use no water or electricity.
Fashionable:

Portable toilets are available in a variety of designs. You can locate one according to your needs.
Restroom Trailers are perfect for every special event
When planning a special event, it is essential to consider every element that will make the occasion memorable and enjoyable. A quality restroom trailer should be noticed in this process. Restroom trailers provide the convenience and comfort of home, making them an ideal choice for any outdoor event or gathering.
Our restroom trailers are designed to meet various needs, offering guests multiple stalls with sinks and handwashing areas and providing wheelchair access for individuals with disabilities.
It comes in different shapes and sizes to accommodate large groups of people while still allowing enough space for everyone's comfort. Furthermore, they can easily be moved to almost any location, making them perfect for events at parks, beaches, or other outdoor spaces where traditional bathrooms are unavailable.
Cities We Serve In Tennessee
Tennessee, known as the Volunteer State, is a rich and varied place with a deep and fascinating history. From its early days as part of the New France colony to its current statehood within the United States, Tennessee has been home to many different peoples.
 The state is steeped in Native American culture, including Cherokee tribes who have called it home for centuries before European colonization. Similarly, the African-American experience in Tennessee is also essential to its history. From legendary blues musicians to civil rights activists who marched for freedom throughout the 1950s and 1960s, there are few places where this proud heritage can be found more visibly than in Tennessee.
 For those looking to explore these histories further or simply take in some stunning natural beauty, Tennessee offers visitors plenty of attractions and experiences that will help them learn more about this unique region.